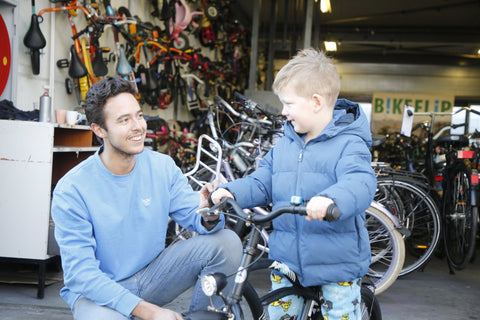 Book a test ride and find the perfect bike
Service
✓ Repair within 48h
✓ Flip your bike at any time
✓ Always the right size bicycle, correctly adjusted
As a BikeFlip customer you receive so much more than just a bike! Our service not only includes the bicycle itself, but also test rides, exchange (at home), adjustment of the saddle and repairs to the bicycle. This is all done by passionate BikeFlippers.
What if something were to happen to one of our bicycles? BikeFlip is there like the chickens and will fix your tire at home.
You can view our delivery area.
Delivery & exchange
Delivery
We deliver the bicycles to your home within our service area. All bicycles are delivered within 1-3 working days.
Pick up
You are also welcome to make an appointment and visit us at our workshop at Industrieweg 34-15, 3606 AS in Maarssen to choose your new bike, take a test ride or pick up the bike you selected online.
Exchange
If the bicycle is too small, we will always exchange it for free. That's BikeFlip!
Do you have any questions about the subscription or a specific bicycle? Please contact us so we can help you.
Sustainability
This bicycle contributes to a circular economy and a better, more sustainable future for the next generations.
You save 31.45 kg of CO2 per bicycle that is not newly purchased.
You can see more details about BikeFlip and Sustainability here .
✔️ Not sure if you can find the right bike? No problem!
✔️ We will ensure that we find the best bike together.
Test ride
Would you like to try out a bicycle or (physically) browse through our current range yourself? To take a test drive at our workshop at Industrieweg 34-15, 3606 AS in Maarssen , click on ' Select a time ' and easily book your test ride. If you have any questions, you can always contact us!
They went before you and have already found the perfect bike!
Repaired by experienced bicycle mechanics
Cancel your subscription at any time*
Free exchange and test drive
* The minimum duration of the subscription is 3 months.